A Job Safety Plan (JSP) is required for all electrical work here at the Laboratory. Use this electronic JSP form to perform hazard assessments, define controls, and perform a job briefing. Contact any Electrical Safety Officer with questions or comments.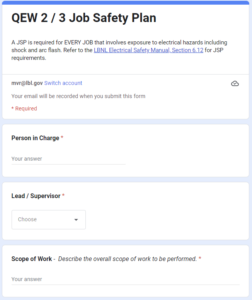 The new QEW 1 Job Safety Plan (JSP) is now available for use. This easy-to-use JSP captures hazards and controls which are common for QEW 1 level work. Remember, a written Job Safety Plan is required for all electrical work at the Laboratory that involves exposure to electrical hazards. Download and complete the QEW 1 JSP with Adobe Fill & Sign!
Revision 2, dated 11/25/2019, of the LBNL Electrical Safety Manual is now in place.   This revision is  updated to the 2018 NFPA 70E, recent EFCOG best practices, and other improvements identified by the Electrical Safety Committee.  These include:
Incorporates risk assessment terminology, job safety plans and human performance guidelines for Risk Management
Added DC arc flash requirements and calculator tool
Revised switching rules
Added Guidelines and requirements on overdutied panels
Added section on Automatic Voltage Testers
Added Guidelines on Look-Alike Equipment, Lasers, Welders, and Vaults & Manholes
Modifications to Capacitors to match EFCOG submittal to NFPA 70E-2021, and the DOE Electrical Safety Handbook
The Electrical Safety Manual is an exhaustive resource that provides the rules and direction for all electrical work at LBNL to keep everyone safe from electrical hazards and meet the requirements of the applicable codes and standards.  Click to download.
---
Submit Feedback
The Electrical Safety Program needs your input and suggestions!